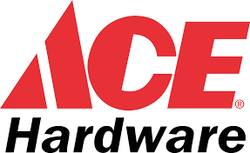 Foam-Tac 1 ounce is now available at your local Ace Hardware If the store does not have it in stock all you have to do is ask them to order 1602325 Foam-Tac 1 oz. adhesive. They will order from there warehouse very quickly for you.
---


Foam-Tac 1 ounce is now available at your local Hobby Lobby store!!
---
FOAM-TAC


"We have listened to your suggestions and we are very proud and excited to add a 1 Ounce Foam-Tac to our product line up"



Beacon has a NEW PRODUCT! FOAM-TAC FOAM-FINISH!

FOAM-TAC is happy to announce our latest product...
FOAM-FINISH - Finishing Compound for Foam

FOAM-FINISH coats and protects all types of foam; creates a smooth surface for paint, decals and stain. Use our finishing compound to fill in dents, nicks and scratches in foam.


See our flyer for more information.

---

Same Great Foam Tac formula in a easy to use, easy to carry and easy to dispense. 6 pack 5ML each tubes with precision tip. Perfect for carrying to the field for repairs!!!!

Beacon has a NEW PRODUCT! HOBBY COAT!


HOBBY COAT

protects almost any surface with a clear, semi-gloss finish.Easy to apply, Hobby Coat is non-toxic with a low odor. Hobby Coat is great for hobbies, crafts, gifts, home decor and many other applications. Hobby Coat also adds no extra weight to projects, just a protective shine.

See our flyer for more information.
---
Beacon has a NEW PRODUCT! POWER-TAC PLASTIC WELDER!

Power-Tac Plastic Welder Super Tough Glue For: RC/Drone repair and builds, Home Repairs, Hobbies, Automotive, Marine Applications & Gel Coat and Sporting Goods.
Bonds: PLASTICS, PVC, WOOD, CARBON FIBER, NYLON, FRP, POLYESTERS, GELCOATS, STYRENE, STAINLESS STEEL, GALVANIZED STEEL. ETC.



Fiberglass Reinforcing Cloth
Great to use with Beacon's Foam Finish to strengthen & support foam.


*** Look for our announcement and Product Demo Video Below





Beacon has a NEW PRODUCT! FOAM-TAC FOAM FILLER


Foam-Filler makes it fast and easy to repair holes, cracks or nicks in all types of foam and wood to create a perfect surface that can be sanded and painted. FOAM-FILLER won't shrink or crack, has no strong odor, and is safe for everyone to use, even children.

---
BUILD, FLY, FIX!


FOAM-TAC'S improved formula now contains UV blockers so that it can be used in the field in direct sunlight without any yellowing or degrading. We've also added a special adhesion promoter to make the glue even stronger and more durable than before.
Hands down, Foam-Tac is the best choice for building and repairing all parts of foam planes including motor mounts, control horns and rods, attaching servos, and tacking down wires.
FOAM-TAC offers many advantages over other types of glues that have been used on R/C planes. Since a little Foam-Tac goes a long way, you'll build plane after plane with one bottle, saving time, money and materials.
Foam-Tac never yellows or becomes brittle.
Very low odor, no fumes.
Dries fast and crystal clear.
Never foams or expands or needs a kicker.
Remains flexible. Glue joints flex with the foam, preventing separation from hard impacts.
Long shelf life –up to 2 years if properly stored away from heat and with white cap replaced. If white cap is lost, remove applicator cap and put a small piece of aluminum foil over the opening and then replace the applicator. Store at room temperature.
No need to store in the fridge or freezer.
Works on ALL types of foam including Depron, EPP, EPO, Styrofoam, insulating foam, and even florist's foam, as well as with balsa wood and carbon fiber.
Great for waterproofing.
BEACON'S RC PRODUCTS IN ACTION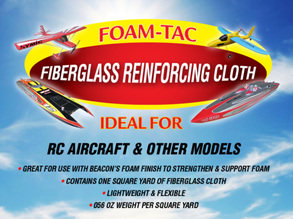 Beacon Adhesives Has a New Product! Foam-Tac Fiberglass Reinforcing Cloth! Watch the Demo Video Below to see this Product in Action.

---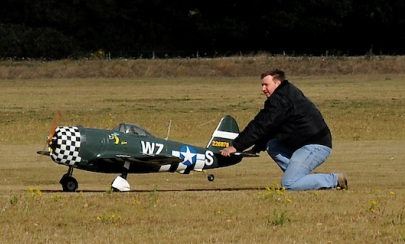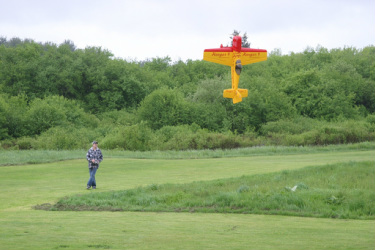 BEACON ADHESIVES, Inc.
125 MacQuesten Parkway South
Mount Vernon, NY 10550
914-699-3400
---